I'm using a Xantrex LinkPRO as my only EV-specific instrumentation. I have a interface box that a friend built. The interface box scales the pack voltage down and also isolates the RS-232 output from the LinkPRO. I have a Deltec 50mA/500amp shunt in series with my pack for measuring current. The shunt connects directly to the LinkPRO (it doesn't go through the interface box).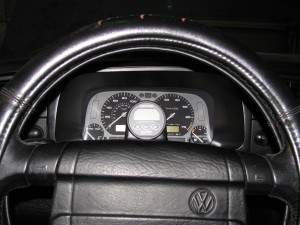 I had been getting really bogus numbers for my amps readings. Like, never over 100 amps. I could tell from the log data from the Soliton Jr. that I was hitting the pack current limit (set to 250 amps).
This puzzled me for a long time. I tried using different kinds of twisted pair cable and shielded cable to connect the shunt to the LinkPRO. I tried all the settings in the LinkPRO that looked relevant. I tried telling the LinkPRO that I really had a 900 amp shunt.
Finally, I tried changing the mode on my Soliton Jr. from "Performance" to "Quiet". Performance mode switches at 8 kHz. Quiet mode switches at 14 kHz. This seems to have fixed the problem. I see current readings from 0 up to my set limit of 250 amps.
My best guess is the the LinkPRO sampling frequency is related to the Performance mode frequency (8 kHz). Either it's the same, a multiple of it, or evenly divides it. Another possibility is that the pack switching was interfering with the shunt signal.